Attention all families: Please take this 5 minute survey from The Barbara Bush Children's Hospital. Even if you completed the survey last year, we need your participation again! Everyone who completes the survey will be entered into a prize drawing and five lucky winners across the state will each receive a $100 Amazon gift card for their personal use AND if you win, our school will receive $1,000. Other schools are participating, so the more families from our school who complete the survey, the greater our chance of winning $1,000! Contact information for the prize drawing will be collected at the end of the survey and will not be connected to your survey responses. All survey responses are anonymous. Click the following link to begin the survey:
https://www.surveymonkey.com/r/2021FamilySCHSagadahoc
Thank you!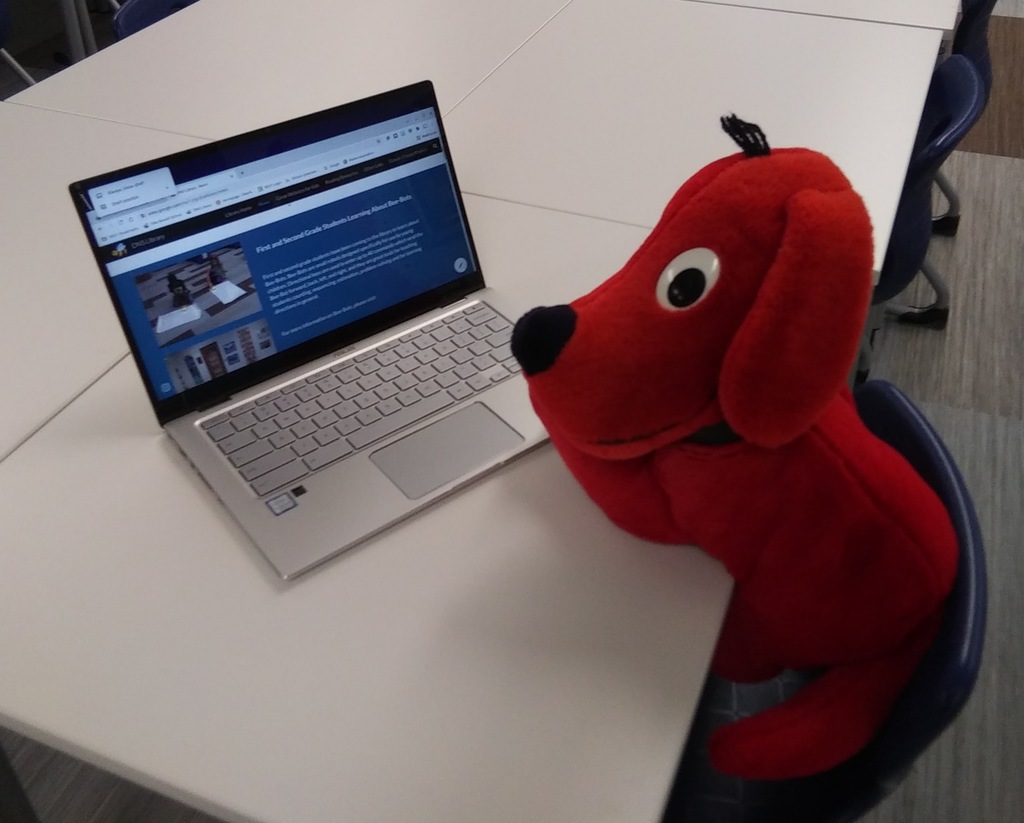 REMINDER - there is NO school on Friday 10/8 due to a professional development day and Monday 10/11 due to Indigenous People's Day.
Reminder that TONIGHT 9/29 is our Open House from 5:00 to 6:30. Please make sure you have signed up for a time slot if you are planning to attend! Call the main office if you have any questions at 443-8285
PTA EVENT UPDATE - Unfortunately due to weather, the PTA Movie Night outside event scheduled for Saturday September 25th at Fisher Mitchell School has been cancelled.
Today 9/8 is the first Late Start Wednesday - All busses will be picking students up exactly 1 hour later this morning!

Please check out our Facebook page for more information!
Please join us for the SET FOR SUCCESS event on Saturday, August 28th from 10am to 2pm at the New Morse High School (826 Shipbuilder Drive in Bath) gymnasium! We hope to see you there! For more information on Set for Success, visit:
https://www.midcoastyouth.org/set-for-success/

From Mrs. Hardman - all library books are due back by Friday, June 4th!

Midcoast Literacy will be presenting a Readers Theater Performance, streamed online, on Sunday, April 25th at 4:00pm. The event - which will be held over Zoom - will feature local professional actors performing two children's books: DOCTOR DESOTO by William Steig and TODAY I WILL FLY! by Mo Willems. The event will last around 45 minutes altogether. The books - if you aren't familiar with them already - are both elementary grades kids books with many fun characters the actors will be bringing to life: they'd be great for students in grades K-4. Families interested in attending need to sign-up in advance, which they can do through our website at
https://midcoastliteracy.org/index.php/our-programs/readers-theater

Makers Market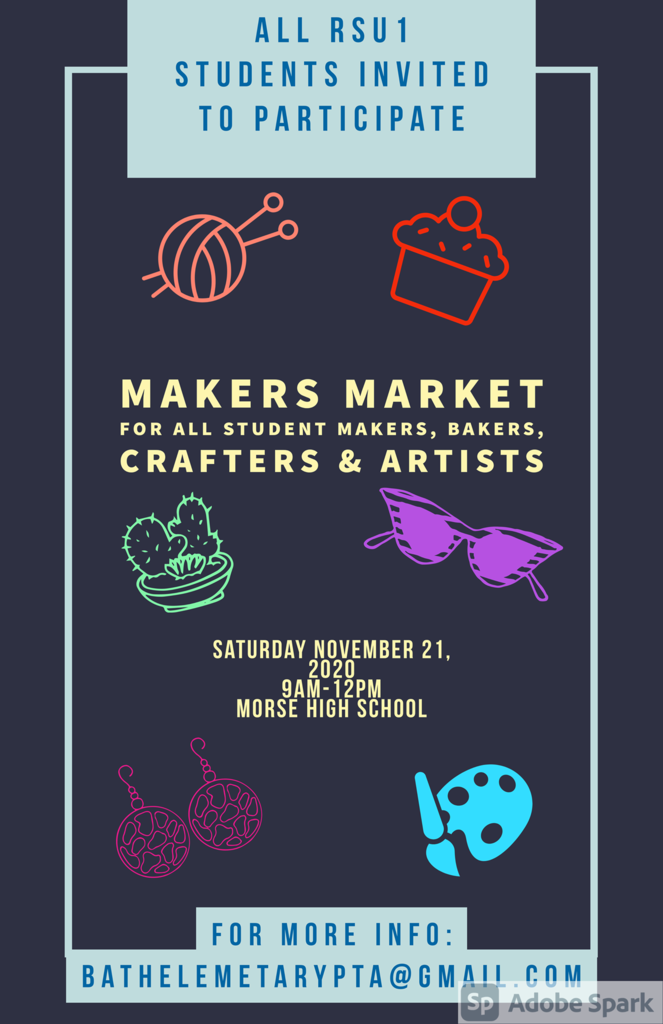 Happy Tuesday DNS Families! Just a quick, but important, reminder about buses this year. Our bus rules are very specific this year in order to ensure we are meeting the guidelines for spacing of students, as well as contact tracing should there be any positive cases. Because of this, students cannot be changed to different buses on a day to day basis. They must ride their scheduled bus. If your child cannot ride their scheduled bus for whatever reason, the only other option is to pick them up at school. We cannot switch children to different bus runs. Thank you for your help with this!

Dear RSU 1 Staff and Families, We have received many questions about the types of COVID-19 testing being offered when staff and students are following the RSU 1 Guidelines for Illness. Please see the below clarification from our school nurses and Dr. Hanna around what testing is acceptable. - - - - In consultation with our school physician, Dr. Amina Hanna, RSU 1 would like to clarify the following regarding COVID-19 testing and returning to school/work. There are three types of tests available for COVID-19: polymerase chain reaction (PCR), antigen (rapid results), and antibody (serology) testing. PCR and antigen (rapid results) detect whether a person is currently infected, and serology detects whether a person had an infection in the past. RSU 1 is requiring PCR testing results and will not be accepting antigen (rapid results) for return to school/work due to the lack of reliability and sensitivity of rapid tests. According to the Maine CDC and Maine American Academy of Pediatrics, PCR testing is the gold standard to rule out a COVID-19 infection. When you are getting your test done, make sure you say "My employer/school requires a negative PCR test for return to work/school" to ensure you are getting the proper test completed. Our community has ample availability of PCR testing and these tests for COVID-19 are free of charge if families do not have insurance to cover the costs. If you feel you or a family member are in need of a COVID-19 test or if your school is requiring one for your child to return to class, please call your primary care physician to set up an appointment or call your School Nurse to discuss if you have additional questions.

MEALS AT NO CHARGE FOR 100% DISTANCE LEARNERS To All RSU1 Families of 100% Distance Learning Students: The Food Service Staff at RSU1 wants to make Breakfast and Lunch available to ALL students in the district -- even those that are learning remotely. This year, because of the generous action of the USDA during the pandemic, all meals will be at no cost to students. We will be offering bagged breakfast and lunch, available at 2 locations. Regardless of where your children attend school, you can pick up at one of these 2 locations. You can pick up as many as 3 meals for each student at a time (i.e. 3 breakfast and 3 lunches). Meals must be ordered at least 1 day in advance. You can place your order with Tim Harkins, Food Service Director, by calling (443-6601, ex114) or email:
tharkins@rsu1.org
. PICK-UP LOCATIONS: Bath Middle School: p/up at the front entrance Tuesday or Thursday 9:15-10:15am Morse High School: p/up at the kitchen loading dock (Maple Street) Tuesday or Thursday 12:00-1:00pm Meals MUST be picked up by a student, parent or guardian. Under this program, caregivers are not allowed to pick up meals for students. Please let us know when you will be arriving and someone will bring the meals out to you. These meals will have perishable items that will need to be refrigerated below 40 degrees F upon receipt. Some items may need to be reheated to 165 degrees F prior to serving. Feel free to call if you have questions. Tim Harkins Food Service Director, RSU1

Flu Shot Clinics


*** SPECIAL ANNOUNCEMENT REGARDING MEAL SERVICE IN RSU1 *** On September 1, 2020 the USDA announced that they will be extending the waiver for the Summer Meals Program through December 31, 2020 (as funding allows). After a presentation by the Maine DOE Child Nutrition Director on September 3, 2020, RSU1 has decided to opt into this program. What this means for students of the District is that Breakfast and Lunch will be offered for no charge through 12/31/2020 or until the funds run out. The DOE Child Nutrition Department is working out the details of this, and will be giving districts guidance in the next couple of weeks. As we receive the details, and work out the logistics, we will relay that information to the RSU1 Community. In the meantime, beginning 9/8/2020, all students who eat breakfast or lunch at school, or who request meals to go home will do so at no charge. If you have questions about this Program, please contact: Tim Harkins, Food Service Director RSU1 (207) 443 6601 ex.114 or email:
tharkins@rsu1.org
Regards, RSU1 Food Service Department 9/4/20



Student Materials Pickup - Hello DNS Families! Many of you have emailed asking if your child has anything at school to pick up and when the next library book drop off will be. We are currently gathering all remaining student materials that have not been picked up and organizing them. We expect to have this done 6/9 and will then reach out to those families who need to stop by with dates & times and pick up instructions. We will also collect library books during these times. Thank you for your patience as we wrap up these details before summer break.